MTSHD's back... alright!
Whilst our roaming singer Harry is away the rest of MTSHD has been working hard (ish) to bring you new & delicious aural excitement! We'll be gigging again from June. If you fancy putting us on drop us a line at mytherapistsayshotdamn@gmail.com…
Gig @ Queare tomorrow
MTSHD are back this time with a rejigged line up. Our lead singer, Harry, is travelling around America for two months so we decided to mix things up a bit to keep going.  You can catch us tomorrow at Queare at The Waiting Room in Stoke Newington. It's £5 to get in and we'll be playing with BK and Dad and Breathe Out.  Event info here
2 tags
MTSHD @ Violet Noise
Hi all!!! You don't have to wait too long till you get your next MTSHD fix as we'll be playing Violet Noise at Hoxton Square Bar & Kitchen on Sunday 17th February. Make sure you get there early as we'll be on at 8pm. We'll be playing with the excellent Annette Berlin, Manflu and Jess Marlowe. Expect some vegan hate/love, stage diving and vodka x.x.x
6 tags
Next gig @ Girl Germs
Catch MTSHD at Girl Germs this Saturday at Power Lunches. We'll be playing with the amazing Woolf and Loveover. See you there x.x.x Event Info Ticket info
8 tags
First gig of 2013!
Have you missed us? Cos we've missed you!! Our first gig of 2013 is at the awesome No Dicks Allowed club night (a night promoting self-defining women, trans, LGBTQ, queers and minorities within punk/metal/hardcore/DIY) on Friday 25th Jan at the Birds Nest, Deptford. We're playing with Shopping and Faggot and it's FREE!!!
3 tags
What you missed last night....
MTSHD caught at a meditative moment @ The Good Ship Kilburn, 25 Oct Photo by filleboheme
Gig @ Good Ship Kilburn, Thurs 25 Oct
MTSHD: sometimes we like to kick it in bathrooms. So, Thursdays are an excellent night to go out - why waste your weekend being hungover when you can do it in work time eh? COME TO THIS WE WILL SHRED YOUR FACES OFF.
5 tags
Our first review!
Toooo exciting!!! ♥ ♥ ♥ Newcomers My Therapist Says Hot Damn set the appropriate mood with full-throttle distorted guitar riffs and fierce wails of "my body is not for sale!". A growling cover of PJ Harvey's 'Long Snake Moan' has you believing their influences are firmly placed in the darker edges of 90s grunge…. [read the full review]
Awesome SW London riot grrrl night!
Possibly the most exciting thing to happen in Stockwell *ever*, Bloody Ice Cream is a new riot grrrl club night (which MTSHD may be playing *cough*). Check it out innit: https://www.facebook.com/bloodyicecreamnight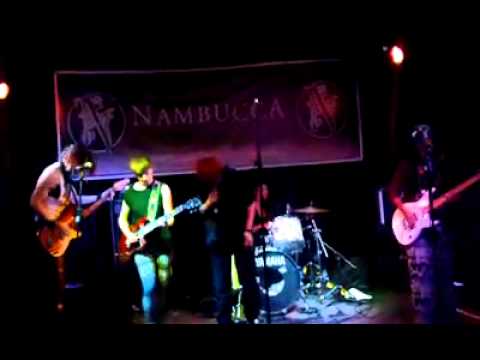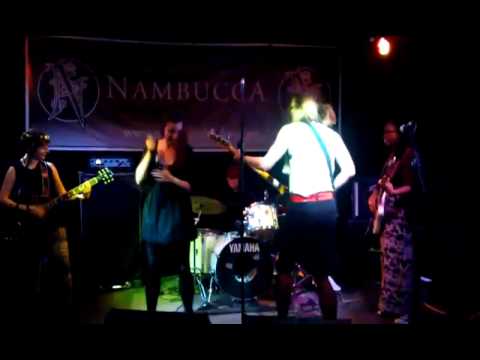 3 tags
My Therapist Says Hot Damn @ Alleycat
Oh my god! You thought you might have to get through the rest of August without seeing MTSHD again, but fear not - we are returning to the stage once more!! We intend to blow your socks off (or tits, or willy) with ridiculously amazing songs, enforced audience participation, shocking revelations and much more!! Drink, dance and be smelly. Expect hair growth during the set. My Therapist Says...
We have bass-off!
We finally have a new member of our noisy little family!!! Chloe plays bass, drums and uhh, pretty much everything it would seem…. You can check out our fabulous new lineup on Friday at The Shoreditch. YAY! Plus if you respond to the facebook event you can get in for a fiver. Bargain. 
3 tags
My Therapist Says Hot Damn @ The Shoreditch
Wondering how you can possibly cope any longer without seeing The 'Damn? Fear not! We're making a triumphant return to the stage after an incredibly un-rock n roll July at The Shoreditch on Friday 10th August. This is going to be a particularly special gig as it is the ever-awesome Steph's birthday! Come dance suggestively at her! Throw underwear! Scream like a teenybopper! And...
My Therapist Says Hot Damn is looking for a...
We're looking for a committed bassist (of any gender) to complete our line up. Must have GSOH (oh wait, you mean this isn't a dating ad?) and be up for gigging straight away! We set out to make riot grrrl music, but it ended up sounding a bit like the kind of music that would be made if Ari Up had a lovechild with your mum after a night out on the town.  We are inspired by bands...
3 tags
Birds Nest
We're playing at Birds Nest on Friday 22 June, check out their gig listings. They got our name wrong but it's all good. Click here for more info.
3 tags
2 tags